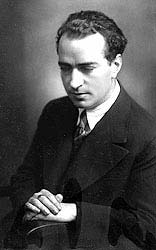 Joaquín Rodrigo was born in Valencia, Spain on St. Cecilia's day, the patron saint of music, November 22, 1901. At the age of three, he was completely blinded due to Diphtheria He began his first musical studies on piano and violin at the age of eight. At Sixteen, he entered the Valencia Conservatory, where he studied composition and harmony.
In 1927 Rodrigo moved to Paris to enroll at the Ecole Normale de Musique, where he studied for five years with Paul Dukas. He would soon become friends with Ravel, Honegger, Milhaud,, de Falla, and many other musical celebrities of the time. It was in Paris that Rodrigo composed the
Concierto de Aranjuez
for guitar and orchestra which brought him world-wide fame, overnight. This concierto was dedicated to Regino Sáinz de la Maza. Rodrigo has composed many other works for orchestra, piano, and voice, including concertos for various instruments, more than sixty songs, choral and instrumental works, and music for the stage and cinema. It is the works for guitar which have gained him the widest circulation and have brought him the undiminished reputation of being the guitar composer of the twentieth century. This feat is made even more extraordinary since Rodrigo could not play "four notes in a row" on the guitar, but he was an excellent pianist and violinist. All Rodrigo's compositions were originally written in Braille and were transcribed into notation later.
In 1933, Rodrigo married the Turkish pianist Victoria Kamhi and continued to travel throughout Europe. In 1939, he returned to Spain and settled in Madrid. Rodrigo received many honours during his lifetime, both civil and intellectual, and to celebrate his 90th birthday concerts of his music were held worldwide and Rodrigo was raised to the nobility by King Juan Carlos of Spain, given the title 'Marqués de los jardines de Aranjuez' . In 1996 the composer received Spain's greatest distinction, the Prince of Asturias Prize, the first time that it had been awarded to a composer.
Rodrigo died in Madrid on the 6 July 1999. His daughter Cecilia founded the publishing house of Ediciones Joaquín Rodrigo in 1989 and created the Victoria and Joaquín Rodrigo Foundation in 1999 in order to ensure the continuity of his legacy. In Rodrigo's music, originality of musical inspiration goes hand in hand with a devotion to the fundamental values of the rich tradition of Spanish music. In the composers own words, "Often, composing music, I have had the sense that everything that is beautiful -and the soul is this- is certain to remain."