Want to Learn more about our members ?
Links to many WGS members can be found here.

Current Wichita Guitar Society Members
With Websites Include:


International Artist in Residence
:
Marco Porcu
If you are a WGS member and would like us to host a free page about you
or a link to your existing site please contact wgsmembers@sologuitarist.net
---
WGS members receive discounted tickets to all its sponsored concerts, workshops and events, additional discounts on all sheetmusic and selected materials found on sologuitarist.net , free classified listings and a free bio listing with links on the WGS members webpage. Membership fees go far to bring world-class guitarists to Wichita, help showcase our local talent in the community, as well as, provide educational outreach programs.
For Free Web Page or Link send email to wgsmembers@sologuitarist.net

If you would like to help or just drop us a line you can reach us at:

wichitaguitar@sologuitarist.net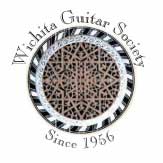 Other Guitar Societies Around The World
---