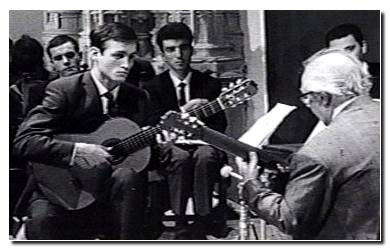 When he was eighteen, Ray Reussner walked through a music store that was playing a recording by Andrés Segovia. He was stopped by the beauty of the guitar being played in a way he had never heard before.
"When I first heard Segovia I was captivated. I knew then...I wanted to emulate those wonderful sounds."
He returned the next day and bought his first classical guitar. Weeks later, he enrolled at the Kansas City Conservatory of Music and was surprised a month later when his teacher introduced him as his finest student. Months later, only nineteen years old, with a few words of Spanish and the address of a guitar maker in Madrid, the young Reussner set out for the Iberian Peninsula. He had been told that a Spaniard, José Tomás, was one of the world's finest guitar teachers. He found Tomás assisting Segovia at his summer Master Classes in Santiago, Spain, and spent the next year and a half under his guidance.

"At first, I had little idea of the right path, but when I look back now, it would seem fate was guiding me to exactly where I was supposed to be."
The following summer, he was selected to participate in master classes directly under Andrés Segovia. Over the years, he performed in five Segovia classses and was chosen to be one of the subjects of a PBS documentary about the 1965 Segovia Master Class. "When you played for Segovia, he'd start conducting, and sort of singing the music beneath the level of the guitar. You could feel his musical genius flowing into you."
He was then chosen to be one of six students to study with John Williams at the Royal College of Music in London and won the Jack Morrison Guitar Prize, awarded to the top student. He then attracted international notice by winning the prestigious Premio Guitarras Ramirez and the Premio American Guitar Foundation in the Concurso International de Guitarra at Orense, Spain.

"My own personality and ideas have come to bear when I interpret a piece, but the magical times I spent with Segovia always guide me."
After returning to the United States, he was asked ( at the age of 22) to join the faculty of the Kansas City Conservatory of Music and later he joined the faculty of the San Francisco Conservatory of Music, where he taught for seven years. He performed in concert all across America, including the Lincoln Center in New York, to great critical acclaim. And then...he ceased performing publicly.

"When I was a student, I thought I was blessed with a natural technique, but I became dissatisfied with the sound and began changing everything. It became too painful to play in front of an audience until I could achieve the sound I was after."

With his wife, Sylvia, and son, Christopher, he moved to Southern Oregon, built his house by hand, and practiced in solitude for nearly a decade. Now Ray Reussner has resumed his concert career and his music has brought him standing ovations once again.
---