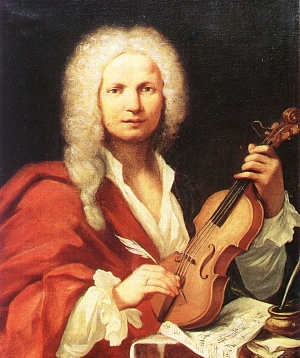 Baroque composer
Antonio Vivaldi
was born in Venice on March 4th, 1678. He was an ordained priest at the age of 25. He gave up the priesthood within a year due to his fragile health. Vivaldi wrote many concertos, among them being the "Four Seasons." He also wrote many pedagogical works for the female students of the Ospedale della Piet# where he taught for most of his working life. This "orphanage", as it was often called, was in fact a home for the illegitimate daughters of wealthy nobelmen. Vivaldi traveled to Rome and many other cities. His works were in great demand. They were often cranked out in just a few days, a fact that would earn him many commisions.
Vivaldi was also a prolific opera composer. Contemporary Abbot Conti wrote: "In less than three months Vivaldi has composed three operas, two for Venice and a third for Florence; the last has given something of a boost to the name of the theater of that city and he has earned a great deal of money." In spite of his fame and travels, Vivaldi always remained in the service of the Ospedale della Pieta, by sending concerti at an average of two a month. Jean-Jacques Rousseau and King Louis XV were counted among his many fans
Vivaldi wrote concerti for many instruments, including the lute. This Concerto for in D major for Lute and Orchestra has been transcribed for guitar. It has been recorded by many artists. It remains one of the finest examples of the medium. This solo arrangement of the beautiful largo makes up the second movement. The sixth string must be tuned down to D to accomodate the guitar.
More Guitar Arrangements of Vivaldi