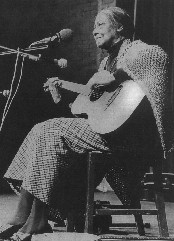 Elizabeth "Libba" Cotten
was Born in Chapel Hill, North Carolina on January 5, 1895. She started playing her older brother's Banjo at the age of eight. She soon moved on to his guitar. She was self taught and played the guitar left-handed and upside-down.
At age 12, Cotten began doing housework, as her mother had done. At the age of fifteen she married Frank Cotten, They had one daughter, Lillie. The family moved back and forth between Chapel Hill, Washington DC., and New York City where Frank found work as a chaueffer and later the operator of his own auto repair shop. In 1940 she divorced Frank and moved in with her daughter, Lily and her husband. Elizabeth had retired the guitar for twenty-five years, except for occasional church performances when, in the late '40s, she began plaing regularly again. It wasn't until she reached her sixties that she began recording and performing publicly. She was discovered by the folk-singing Seeger family after she began doing their cleaning. Her first recording "Folksongs and Instrumentals with Guitar," was recorded by Mike Seeger, in 1958.
Late in life, Cotten received many honors including: The National Endowment For The Arts National Heritage Fellowship Award in 1984, the same year she won a Grammy Award for Best Ethnic or Traditional Folk Recording for "Elizabeth Cotten Live!" Recorded when she was 90 years old. In 1986, she received a Grammy nomination for Best Traditional Folk Recording. In 1989, Cotten was one of 75 influential African-American women chosen to be included in the photo documentary, "I Dream a World." A road in North Carolina is named after her. Elizabeth Cotten died on June 29, 1987, at age of 92 in Syracuse, New York. Her influence is felt by many guitarists today.
"Freight Train," Cotten's most noted tune was written when she was twelve years old. It has long been considered an American folk song classic.
Elizabeth Cotten DVDs & Video with Instruction