Jean-Philippe Rameau (1683 - 1764)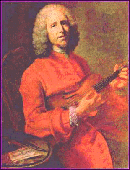 Jean-Philippe Rameau, the leading French composer of the baroque period, was born in Dijon, France on September 25, 1683. He was a contemporary of Bach, Couperin, Handel and Domenico Scarlatti. He collaborated with Voltaire on several projects. Rameau received his early music training from his father, a professional organist. Rameau was a child prodigy, performing music of every type of by the age of seven. At the age of 18, he studied briefly in Milan. From 1702 until 1727, he held several organ posts throughout the chuches of France. His primary post was at Clermont Cathedral. In 1713, he also was employed as a violinist in the Lyons Opera. In 1722, he took up permanent residence in Paris and published his groundbreaking "Traité de l'harmonie," or "Treatise on Harmony," setting forth the principles of music theory that are still the basis of harmony today. His treatise explains intervals, chords and modes, harmonic modulation, chord progressions, chord inversions and the realization of the figured bass. His main principle is that melody is not sufficient for a good piece of music. It is dependent on the rules of harmony. The real guide of every composer is harmony, not melody. As a theorist, Rameau is known as the "Father of Harmony." A second book on harmonic theory, "Nouveau système de musique théorique," or "New System of Music Theory," was published four years later. It caused even more controversy and disputes among scholars such as Rousseau, Grimm and even former friends, pupils and collaborators such as Diderot and D'Alembert.
Rameau's theories were not his only creations that caused debate. In 1733, at the age of 50, his first of thirty Operas, "Hippolyte et Aricie," was performed. It caused quite a stir by breaking the traditional mold for opera as well. His music was flexible, expressive and reinforced the action on the stage. His opera was was both loved and hated. He was accused of taking an "Italianate departure from the classical style of Lully." Patrons lined up as either "old guard Lullistes and the forward-looking Ramistes." His specialty was the tragédie lyrique genre. Today, Rameau's operas rank among the greatest works of French musical drama. They were all successful during his lifetime.
Rameau died, in Paris on September12, 1764. Over 1500 people attended his memorial service, held at the Pères de l'Oratoire, in Paris. There were 180 musicians performing pieces from his operas. Many more memorial services were also held throughout the whole of France.
Menuet en Rondeau is taken from the second volume of Rameau's "Pieces for Clavier." Rameau wrote 65 pieces for harpsichord. He did not break with tradition here. Instead he followed the established French tradition for the keyboard genre. By bringing the melody and bass closer together by an octave this piece fits rather nicely on the guitar.
As with a lot of the French music of the Baroque era, a dotted rhythm is to be played in place of the straight 8th notes:
| | | |
| --- | --- | --- |
| Written As: | | Should Be Played As: |