ALHAMBRA SMALL SCALE GUITARS
Alhambra offers three classical models with a shorter scale length and body size:

Please call or email for availability.
Phone hours are from 10:00 - 6:00 - Central Time,
Monday - Friday at (316) 263-7561.

Cadete, Señorita and Requinto
The Cadete and Señorita are designed for the musician with smaller hands, such as younger players and some female guitarists. The Cadete offers a 580 mm scale length and is designed for younger players. Some would say this guitar was 3/4 size. The Señorita is somewhat longer at 636 mm and more suited for smaller adults. Some would say this guitar was 7/8 size. These two instruments are more comfortable due to their narrower, shallower necks and the relatively smaller body. Both the Cadete and Señorita have been designed for standard tuning.
The Requinto has been designed for a higher tuning. With its scale-length of 544 mm. This model is designed for tuning one fifth higher than standard depending on strings used. It's traditional use has been for adults, as a lead instrument for many Mexican and Spanish ensembles, Mariachi etc. This instrument can offer an interesting alternative for duet use and other multi-instrument performance. Some would say this guitar was 1/2 size.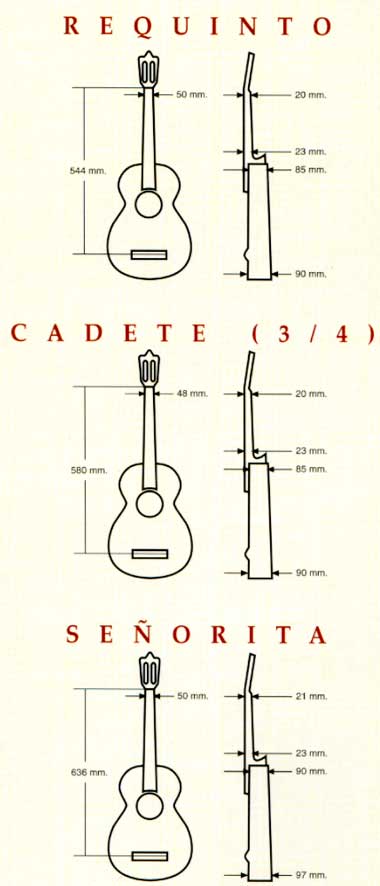 Our Guarantee: All Alhambra guitars come with a 5-day money back guarantee. If you are unhappy with the guitar you have received, you may return it in its original carton within 5 days of receipt. We will refund the full purchase price minus the actual cost of shipping. Note: We are not responsible for any damage. Damage or wear that occurs while in your possession or sustained during shipment from you to us, will be deducted from your refund. Loss from shipping damages can easily be prevented by insuring the shipment and using its original carton.

Solo Guitarist Network is a growing business that takes pride in helping guitarists and afficianados find what is right for them. If you have an interest in a product on our site or one you would like to see listed, please feel free to send us a line. We also offer consignment sales, correspondence lessons and other unique items.
Phone hours are from 10:00 - 6:00 - Central Time, Monday - Friday at (316) 263-7561.
We usually respond to Email within 24 hours on any given day.

For More Alhambra Guitars
Click Here
for our complete price list.
---
- Other Brands -
- Sheet Music & Lessons -

---